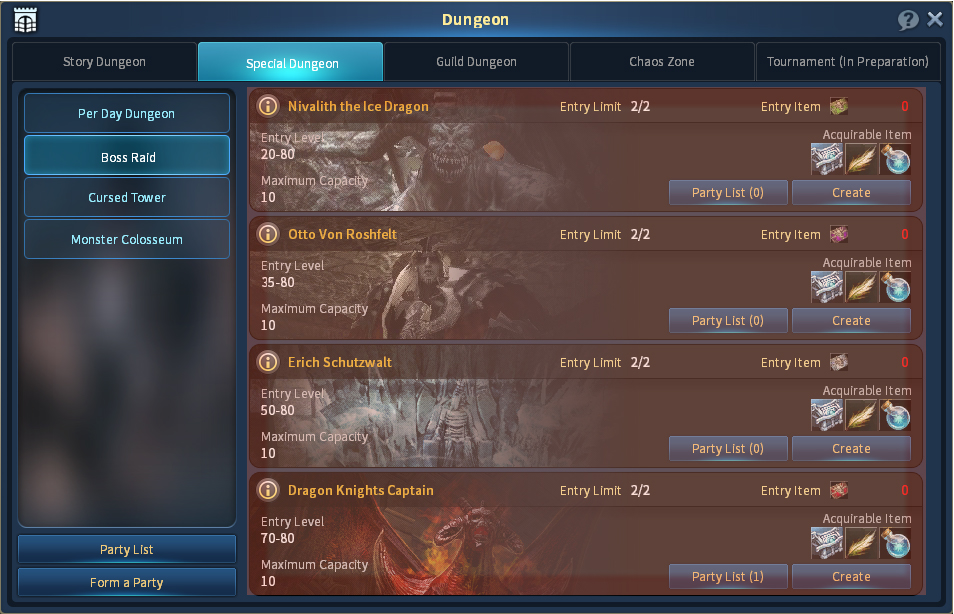 ■ A Dungeon where players challenge powerful Bosses, with each area having a Boss.
■ A Boss' Challenge is required to enter.
■ The Equipment Reward Boxes dropped in Boss Raids contain items for the specific class,
with a higher chance to contain High-Grade Equipment than those from Story Dungeons.
■ Special Item Drop
Dungeon Name

Level Requirement

Drop Item

Nivalith the Ice Dragon

20~80

Nivalith Equipment Box

Wing's Essence

Special Additive

Otto Von Roshfelt

35~80

Roshfelt Equipment Box

Wing's Essence

Special Additive

Erich Schutzwalt

50~80

Schutzwaltz Equipment Box

Wing's Essence

Special Additive

Dragon Knights Captain

70~80

Dragon Knights Captain Equipment Box

Wing's Essence

Special Additive